The best and worst moments of the 2010s for the St. Louis Cardinals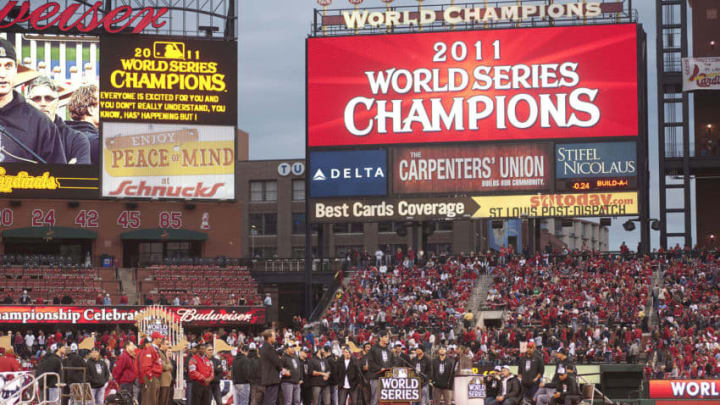 ST. LOUIS, MO - OCTOBER 30: Third baseman David Freese of the St. Louis Cardinals takes the podium during the World Series victory parade inside Busch Stadium on October 30, 2011 in St Louis, Missouri. (Photo by Ed Szczepanski/Getty Images) /
ST LOUIS, MO – OCTOBER 27: David Freese #23 of the St. Louis Cardinals hits a walk off solo home run in the 11th inning to win Game Six of the MLB World Series against the Texas Rangers at Busch Stadium on October 27, 2011 in St Louis, Missouri. The Cardinals won 10-9. (Photo by Rob Carr/Getty Images) /
1st Best: David Freese's Walk-Off Home Run in Game 6 of 2011 World Series
I mean, really, was there any other option for number one here?
This moment made adults jump around like kids again and brought the most diehard fans to tears. What a beautiful moment in St. Louis Cardinals history this was. So many factors came with this moment, the player, the game, the call, and the situation all made this moment so incredibly special and so unique that I know no Cardinals fan will ever forget.
David Freese sending the World Series to seven games was undoubtedly the best moment of the decade and probably is in contention for the greatest moment EVER in Cardinals history. Being from St. Louis, Freese solidified himself as a hometown hero forever. He has played for the devious Dodgers and even the in-division rival Pirates and the Cardinal fans continue to give this man a standing ovation every single year he comes back to St. Louis.
Why? Because he put the whole city, the whole organization, and the entire Cardinals nation on his back and carried them to a World Series championship in 2011. Joe Buck gave the famous "We will see you tomorrow night!" following the home run as a nod to his late father Jack Buck who gave the identical call on the Kirby Puckett homer in 1991.
Not only were the call and the home run itself special, but the entire back and forth game was incredible. So incredible that some call it the greatest game they have ever seen. But everybody knows how it ends and without the heroics of David Freese, the Cardinals would be one World Series trophy shy.
What a team, what a ride.
It was an amazing decade of Cardinals baseball and this list could've been double the size that it was. Looking forward, we are sure to keep getting moments like these in the next decade, hopefully with the same level of success.