The best and worst moments of the 2010s for the St. Louis Cardinals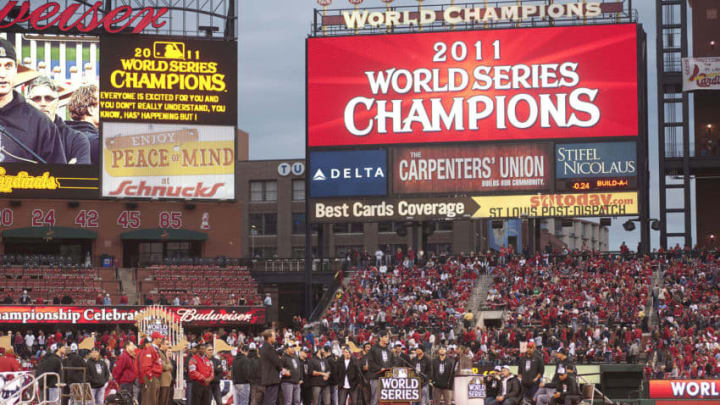 ST. LOUIS, MO - OCTOBER 30: Third baseman David Freese of the St. Louis Cardinals takes the podium during the World Series victory parade inside Busch Stadium on October 30, 2011 in St Louis, Missouri. (Photo by Ed Szczepanski/Getty Images) /
ST. LOUIS, MO – SEPTEMBER 13: Oscar Taveras #18 of the St. Louis Cardinals hits a RBI single in the sixth inning at Busch Stadium on September 13, 2014 in St. Louis, Missouri. The Cardinals defeated the Rockies 5-4. (Photo by Michael B. Thomas/Getty Images) /
1st Worst: The Oscar Taveras tragedy
As painful as it is to sit here and write these words down, I cannot think of a more painful moment in my life from a baseball perspective than getting the update of the Oscar Taveras news.
Oscar Taveras was killed in a wreck in his home country of the Dominican Republic in October of 2014. He was driving his red Chevy Camaro whenever he lost control and hit a tree. But instead of sitting here and basking in the what-if scenarios of how good he could have been or what moves would have transpired or not happened if he was still around, I would like to glorify how amazing of a person and player this man was.
Taveras was given the burden of being called the most hyped prospect for the Cardinals in a very long time, many fans were hoping he could turn into the middle of the order force that would compliment the transition away from Pujols and eventually Holliday. He did nothing but impress the Front Office while he was wearing the birds on the bat.
Taveras was excellent defensively and loved to show off his rocket of an arm. Along with his rocket arm, Taveras had one sweet lefty swing. Yes, it was a long swing and sometimes he would get a little pull happy but you could just see the potential that was coming from him. The fans were excited to see what was in store from this man.
He hit three homers for the Cardinals in his short career but one was an immense pinch-hit home run that solidified the Cardinals win over the Giants in Game 2 of the 2012 NLCS (the only game the Cardinals took in the series) that ended with a walk-off home run by Kolten Wong.
Taveras, along with Yordano Ventura, Jose Fernandez, and Tyler Skaggs, are good examples of great baseball players that were taken from us too soon before we got to realize how good they really were and what their potential was. It's a sad story and hopefully, people will never forget Oscar Taveras' smile and his sweet lefty swing.