St. Louis Cardinals: Giving the 2019 roster their final letter grades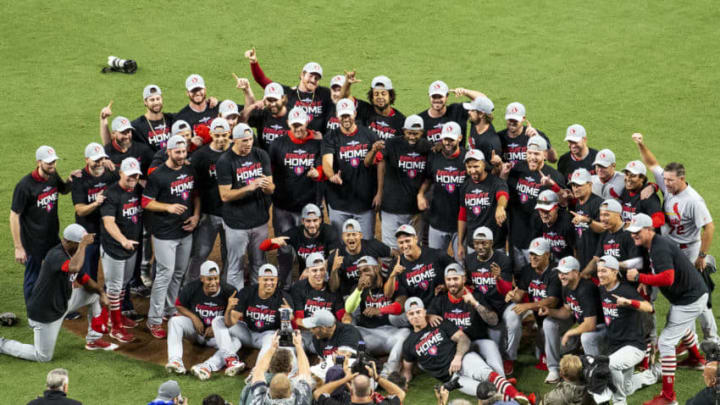 ATLANTA, GA - OCTOBER 9: The St. Louis Cardinals pose for a team photo after winning Game Five of the National League Division Series over the Atlanta Braves 13-1 at SunTrust Park on October 9, 2019 in Atlanta, Georgia. (Photo by Carmen Mandato/Getty Images) /
ATLANTA, GEORGIA – OCTOBER 04: Harrison Bader #48 of the St. Louis Cardinals reacts after striking out to end the second inning in game two of the National League Division Series at SunTrust Park on October 04, 2019 in Atlanta, Georgia. (Photo by Kevin C. Cox/Getty Images) /
Ozuna had a better year power-wise than he did in 2018 but saw a dip in batting average. He was his usual streaky self but when both he and Goldschmidt got hot in the NLDS at the same time, the offense was POTENT. While there is a lot of discussions to come about whether or not Ozuna should be resigned, we can be happy about his 2019 production regardless of his retention status.
Harrison Bader: D
After all the promise Harrison Bader showed in 2018, he fell apart in 2019. Seemingly forgetting how to hit breaking balls, Bader needed a AAA reset in the middle of the year before he was reinserted in the everyday lineup. While his defense was even better in 2019, his .205 average and 78 OPS+ isn't going to cut it as an everyday center fielder. Ideally, this was just a sophomore slump and he bounces back. If not, the Cardinals are going to have to shift their plans quickly.
Dexter Fowler: B
There was nothing more that Cardinals fans could ask from Fowler in 2019. A comeback player of the year candidate, his 3.1 bWAR swing from 2018 to 2019 was awesome. He struggled mightily down the stretch and in the postseason, which knocks down his grade a little bit, but with career highs in homers and RBIs, it was great to see the Cardinals' faith in him pay off.
During the regular season, Jose Martinez was a shell of what we'd seen of him in the past. With a 70 point drop in his OPS, he didn't hit for average or power while being an even worse defender in right field than usual. The only thing that keeps him from being a D+ is his postseason performance where he hit .500 in 10 at-bats and kept the Cardinals from being embarrassed even more in the NLCS. He is a DH on an NL team and should probably be moved this offseason.
As the guy who predicted that Tyler O'Neill would lead the team in homers at the beginning of the season, I was pretty disappointed with his 2019. Not that he did poorly, it's just that he didn't really play. For the month where he did get time during Ozuna's hand injury, he hit .301 with a .823 OPS but didn't get many chances after Ozuna's return. It's all about playing time for O'Neill as he is still just an unknown commodity.
The Majors were not a fair assessment of Arozarena's 2019. Likely to win some minor league awards, Arozarena led AAA Memphis with his offense during his time there yet was relegated to a nonexistent bench role when he was brought up. He did bat .300 with a .891 OPS in his 23 at-bats which was good enough to get the sparkplug onto the postseason roster where he went hitless in two plate appearances. I would hope he gets more of a look for an outfield spot in 2020.
Another player in the managerial dog house for no reason, Thomas had an OPS just under 1.100 in 2019 and spent months sitting on the bench even though he made the most of every opportunity. A wrist injury ruined his chances to contribute down the stretch and, as with Arozarena, should get a better look in 2020 for a bigger role.