St. Louis Cardinals: Giving the 2019 roster their final letter grades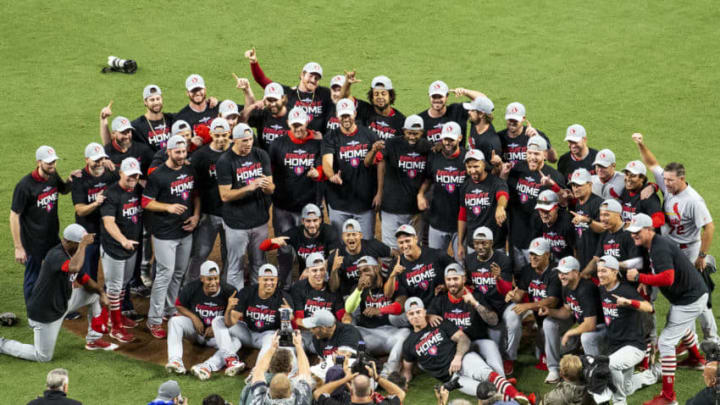 ATLANTA, GA - OCTOBER 9: The St. Louis Cardinals pose for a team photo after winning Game Five of the National League Division Series over the Atlanta Braves 13-1 at SunTrust Park on October 9, 2019 in Atlanta, Georgia. (Photo by Carmen Mandato/Getty Images) /
ST LOUIS, MISSOURI – OCTOBER 07: Yadier Molina #4 of the St. Louis Cardinals is congratulated by his teammates after he hits a walk-off sacrifice fly to give his team the 5-4 win over the Atlanta Braves in game four of the National League Division Series at Busch Stadium on October 07, 2019 in St Louis, Missouri. (Photo by Scott Kane/Getty Images) /
The 2019 St. Louis Cardinals were an up and down team that ended up better than expected. What grade would each player receive for their 2019 performance?
If I'm honest, the 2019 St. Louis Cardinals won't be missed. They were a subpar team that happened to get far in the playoffs because of a weak division. At the same time, every team has flaws, and they should be praised because 26 other teams were out before them.
The team in 2019 ended the decade on a happy note but it was not an easy path. More than half of the roster underperformed offensively and it was a year that had some of the highest highs and lowest lows that fans have experienced in the last four years.
Should the team have made it as far as they did? Probably not. They were the least bad team in an NL Central that was mediocre across the board. They seemed allergic to taking hold of a wide-open division until all of a sudden the end of the season was there and they happened to still be in first place despite losing four of their final five games to end the year.
The strong starting rotation and bullpen was constantly undermined by a Jekyll and Hyde offense that put all their eggs in one basket one day then took the next off.
An NL Central crown is still an NL Central crown though so praise is warranted. That is the duality of the 2019 Cardinals. They didn't deserve to win the NL Central, yet they did. They didn't deserve to beat the Atlanta Braves in the NLDS, yet they did.
As a final four team left alive in the NLCS, the streaky Cardinals offense reared it's ugly head again as the Cardinals were kindly patted on the head then escorted out of the playoff picture by the suffocating pitching of the Washington Nationals.
Again, it was the best year the team had of the last four, but somehow it felt like an awful team, even though it really wasn't. What grades would we give each player based on their 2019?