The St. Louis Cardinals' pitchers are lighting up the AFL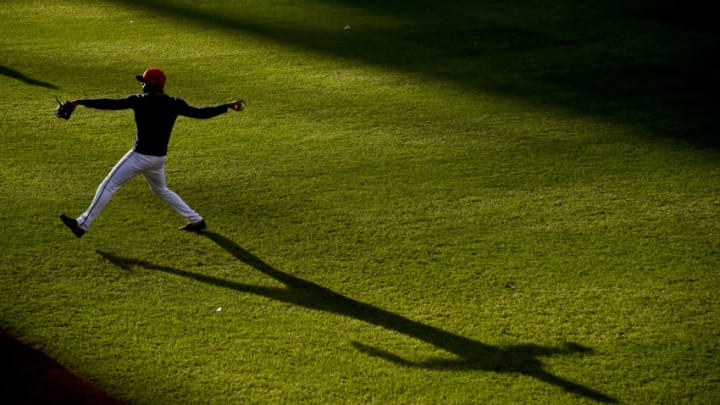 WASHINGTON, DC - OCTOBER 15: Victor Robles #16 of the Washington Nationals warms up prior to playing against the St. Louis Cardinals in Game Four of the National League Championship Series at Nationals Park on October 15, 2019 in Washington, DC. (Photo by Will Newton/Getty Images) /
ST LOUIS, MO – SEPTEMBER 05: Genesis Cabrera #61 of the St. Louis Cardinals pitches during the eighth inning against the San Francisco Giants at Busch Stadium on September 5, 2019 in St Louis, Missouri. (Photo by Jeff Curry/Getty Images) /
Seth Elledge, RP, 23
Seth Elledge was acquired last season when the Cardinals decided to move on from Sam Tuivailala and traded him for Elledge from the Seattle Mariners. The 6-3, 240 lb reliever is a big guy and had a solid year between AA and AAA.
Pitching as mostly a reliever, his combined 4.39 ERA and 1.389 WHIP isn't amazing, but he's a big strikeout guy that just had problems walking too many players. As another Rule-5 draft-eligible player, the trip to the AFL was big for Elledge's long-term outlook with the Cardinals.
He has done nothing but impress so far as through six games and 7.0 innings pitched, Elledge has not given up a single earned run and has an 11:0 strikeout-to-walk ratio. He has not walked a single batter.
This success may not be sustainable, but at least so far, Elledge has shown up big-time.
Roel Ramirez, RP, 24
Another acquisition from another fun trade, Roel Ramirez was acquired in the Tommy Pham trade at the 2018 Trade Deadline. The former 8th round pick was a bit of a throw-in piece and this is actually his second trip to the AFL. His first trip in 2017 with the Rays led to a 10.24 ERA and was an unmitigated disaster.
Since then, he has put together a couple of better campaigns. By better, I don't necessarily mean good, as his 4.78 ERA and 1.452 WHIP in 2019 as a 24-year-old mostly at AA Springfield isn't great. While he did start five games on the year, he was primarily a reliever.
As another Rule-5 draft-eligible player, this year's trip to the AFL felt like a last-ditch effort for Ramirez to prove himself to the Cardinals. He definitely has.
While it's only been 7.1 innings, Ramirez has just a 1.23 ERA and 0.955 WHIP. he has been started once and his 10:1 strikeout-to-walk ratio is great. There's just still a question of whether any of this production is truly repeatable for the older prospect.
Kodi Whitley, RP, 24
Whitley is another player who has taken a long and windy road from draft to the AFL. The 27th round draft pick in 2017 made it all the way to AAA after starting at High-A in 2019 and pitched great at every level.
The 6-4 Whitley had a combined 1.60 ERA with a stellar 1.069 WHIP over three levels this season at the age of 24. After his great regular season performance, it was natural to test Whitley in the AFL and so far, he has kept up the great work. Through six games and 7.0 innings, Whitley has a 1.29 ERA with an even better 0.571 WHIP. Like Elledge, he has an amazing 8:1 strikeout-to-walk ratio.
Whitley, at his advanced age, would definitely be someone you could see in the St. Louis bullpen at some point in 2020.
Whitley, Ramirez, and Elledge have been three of the best four relievers for the Glendale Desert Dogs. That is great to see for a team with a bullpen that had a large body of work in 2019. High-quality minor league reinforcements are never a problem.
Griffin Roberts, SP/RP, 23
The St. Louis Cardinals' second 1st-round pick in the 2018 draft, Roberts has a lot of expectations on him out of Wake Forest University. After being drafted last year, Roberts pitched just under 10 innings before being shut down after pitching for Wake Forest all Spring.
Unfortunately for Roberts, he was suspended for 50 games to start the 2019 season for marijuana use and so he had a late start to the season. As an advanced prospect even at the time of being drafted, Roberts is expected to be a quick riser through the Minors as either a starter or a reliever with his knockout slider.
2019 was kind of a rough year for Roberts pitching between Rookie ball and High-A Palm Beach. He skipped Low-A Peoria and may need to revisit Palm Beach before moving up in 2020. Moving back to starting there, Roberts had a 7.26 ERA and 1.736 WHIP over 65.2 innings. His problem at Palm Beach is slightly concerning as his strength (strikeouts) fell off the board and his walks shot up.
Roberts' walk rate and strikeout rate almost matched each other as at 4.8 and 4.9 respectively, neither was good. The Cardinals likely wanted to keep pushing Roberts to stretch out his pitch count as he has been starting in the AFL.
Through four starts, Roberts has a much-improved 3.07 ERA and 1.364 WHIP. The key? His walk rate dropped down to 1.2 and strikeout jumped back up to 11.0, much more in line with what the team saw from him in Rookie ball and in 2018.
It seems the AFL was exactly what Roberts needed as he is probably renewing the Cardinals' faith in him each time he keeps going out and dominating like he is.
Wrapping up
It's clear that of the players the Cardinals sent to the AFL, the pitchers are dominating while the batters are lagging slightly. This isn't a problem though as none of the Cardinals top prospects are truly there. Could we see some of these players in St. Louis in 2020? I wouldn't be surprised if we saw half of them there.
There are still a few weeks left in the AFL season and we will do a final wrap when it ends, but for now, the Cardinals are showing well against the other young players that teams have to offer.