St. Louis Cardinals: The Johnson City Cardinals have won their league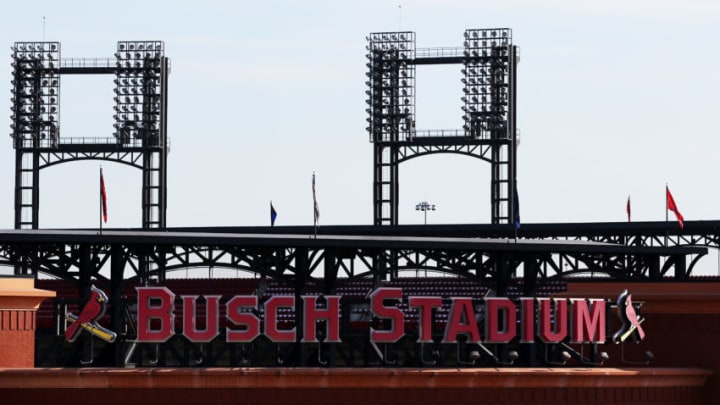 ST LOUIS, MO - OCTOBER 28: A general view Busch Stadium prior to Game Five of the 2013 World Series between the Boston Red Sox and St Louis Cardinals on October 28, 2013 in St Louis, Missouri. (Photo by Ronald Martinez/Getty Images) /
A minor league affiliate of the St. Louis Cardinals has won their league. How'd they do it and who was performing for them?
The St. Louis Cardinals have another title to add to their umbrella of minor league affiliate winnings. The Johnson City Cardinals are the Rookie League affiliate of the Cardinals and they have won the Appalachian League title.
As mentioned in a previous article here, Johnson City had their backs against the wall (not for the first time) in a must-win game and were able to pull it off.
The Cardinals beat the Burlington Royals 8-6 in Game 3 of the series to finish out the title on the backs of 18-year-old stud Malcom Nunez who had three RBI's on the game and an overall strong team effort.
After taking a three-run lead in the first, the Royals stormed back for five straight runs making the score 5-3. The Cardinals then rallied for an 8-5 lead before giving up a solo homer in the ninth before sealing the game at 8-6. The JC Cardinals committed 4 errors leading to four of the six total runs allowed being unearned.
It was more or less a bullpen game on the pitching side of things as 22-year-old Jake Sommers went three innings after the defense caused four unearned runs to be let in. Sommers was followed up by Will Guay and Walker Robbins (who apparently pitches now) before Dylan Pearce finished with a two-inning close.
The Appy league title finishes off a year where they got contributions from 2018 3rd rounder, Mateo Gil (.756 OPS) playing shortstop, the aforementioned 18-year-old Malcom Nunez (.720 OPS), 2019 2nd round pick Trey Fletcher (.596 OPS and also 18), and Oscar Mercado trade tree member, Jhon Torres (.918 OPS).
Those are the names of note from Johnson City as all of them have garnered attention in one way or another but the top performer offensive performer was actually second baseman, Chandler Redmond who put up 12 homers with a .935 OPS as a 22-year-old after being drafted in the 32nd round this year by the Cardinals. Congrats to that late-round gem.
https://twitter.com/JC_Cardinals/status/1169445945559474178
A Rookie League title may not be the World Series, but for the players who are on that team that will eventually climb to the Majors, every playoff run along the way builds the ability to handle pressure in big situations. Congratulations to the Johnson City Cardinals!