St. Louis Cardinals: Power ranking active former Cardinals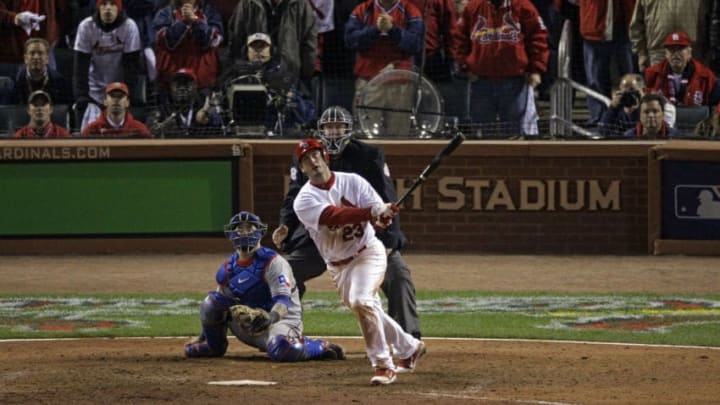 ST LOUIS, MO - OCTOBER 27: David Freese #23 of the St. Louis Cardinals hits a walk off solo home run in the 11th inning to win Game Six of the MLB World Series against the Texas Rangers at Busch Stadium on October 27, 2011 in St Louis, Missouri. The Cardinals won 10-9. (Photo by Rob Carr/Getty Images) /
ST LOUIS, MO – OCTOBER 28: World Series MVP David Freese #23 of the St. Louis Cardinals celebrates after defeating the Texas Rangers 6-2 to win Game Seven of the MLB World Series at Busch Stadium on October 28, 2011 in St Louis, Missouri. (Photo by Dilip Vishwanat/Getty Images) /
This list grew from three to five to now 10 and was honestly a lot of fun to write. There are many ways this list could've been ordered, but I believe for the most part that the top of the list sits exactly how it should.
Some fans on Twitter believe that giving players (especially Freese) a standing ovation every time they come back to St. Louis is dumb or a waste of time, but I believe it's moments like those that prove how great of a fanbase we are. It's the little things like cheering for the Padres first base coach (Skip Schumaker) that proves how knowledgable we are. It's not something to discourage.
The players on this list all have their special moment in St. Louis Cardinals history and that's why they deserve the ovations they get. There need not be any other explanation.
If you disagree with the ordering of this list feel free to argue. There is plenty of play here and reasons why players who just missed should've been on the main list. Albert's return will be an amazing weekend and I can't wait to see what special things the Cardinals have planned for the return of their best player in the last two decades.