St. Louis Cardinals: Power ranking active former Cardinals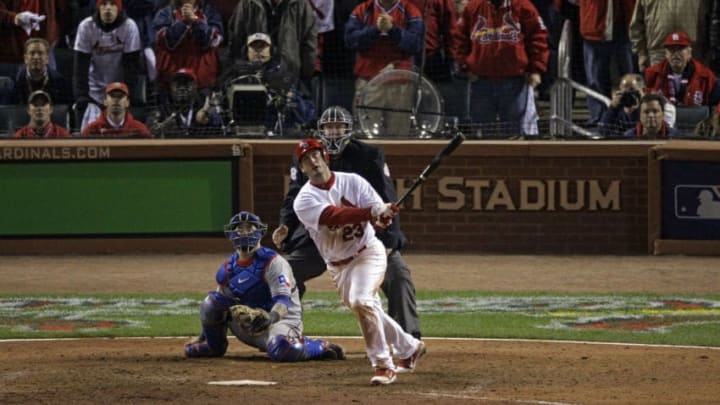 ST LOUIS, MO - OCTOBER 27: David Freese #23 of the St. Louis Cardinals hits a walk off solo home run in the 11th inning to win Game Six of the MLB World Series against the Texas Rangers at Busch Stadium on October 27, 2011 in St Louis, Missouri. The Cardinals won 10-9. (Photo by Rob Carr/Getty Images) /
St. Louis Cardinals /
We are starting this list with a player who seemed to have as much potential as any player the Cardinals brought up in the last six years. Grichuk will forever be known as "the player drafted right before Mike Trout" and was acquired by the team in a trade with the Angels where the Cardinals gave up another player on this list.
Grichuk had four of the most tease-filled years I have gotten to experience as he would show flashes of superstar-slugger power but then look clueless at the plate the next day. For his St. Louis Cardinals career, he batted .249/.297/.488 averaging over 16 homers a year while getting inconsistent playing time. The "Ferrari in the garage" never really showed up.
While Grichuk was a scapegoat for the team at times, fans couldn't help dream about what he could be, which is why he slides in this list at #10. Grichuk was traded to the Blue Jays in January of 2018 for Dominic Leone and has yet to make his return to St. Louis. Hat's off to him though as he recently signed a 5 year/$52M extension with the Blue Jays. He won't make his return in 2019 either as the Blue Jays aren't scheduled to play here this year.
It's almost unfair to include Adams on this list because of how much he has returned already, even returning to the Cardinals 25-man roster. Adams came up with the team all the way back in 2012 and looked like a power hitting slugger that could begin to fill the shoes of Albert Pujols. Unfortunately, injuries and inconsistent play (and a seemingly fractured relationship with the manager at the time) signaled it was time for Adams to get a change of scenery.
Adams was traded to the Braves in the middle of the 2017 season for a Minor league lottery ticket and proceeded to explode offensively for 19 homers and a .858 OPS in just 290 AB's that year. After the 2017 season, he signed with the Nationals where he struggled before being claimed by the Cardinals last August. In his return, Adams hit just .158 with three homers in 59 AB's. Adams then signed again with the Nationals where he is playing this year.
Adams has returned to St. Louis too many times to count and always gets a warm welcome. It's hard not to after postseason moments like the ones he has provided for Cardinals history.
Daniel Descalso was never an amazing player for the St. Louis Cardinals. That being said, he contributed to the magical 2011 postseason run and that puts him among the most beloved former Cardinals. Drafted all the way back in 2007, the now 32-year-old spent five seasons with the Cardinals from 2010 to 2014 mostly serving as a backup infielder. Averaging just a .243 batting average and a .654 OPS, he really wasn't great, but for the role he filled, he was perfect.
From 2014, Descalso has jumped from St. Louis to the Rockies, Diamondbacks, and now the Cubs. He never really improved with the bat and was touted as the Cubs' "big addition" this offseason when he signed his current 2 year/$5M deal.
Descalso has returned to St. Louis many times and always gets a very warm welcome, as he should. He was a role player, but he filled his role well and had some great moments in Cardinals history. Being that he is now on the Cubs, we will see him plenty of times this year.
Jon Jay is another Cubs traitor who had some great years in St. Louis. The slap hitter manned center field for the team from 2010 to 2015 and while he was also a frequent scapegoat, his ability to slap the ball around the field and get on base was a fixture at the top of the lineup for each year he was here.
He averaged a .287 BA and .354 OBP in his time with St. Louis and was included in one of the best trades of the last decade. After Jay had a rough 2015, he was flipped to the Padres for a man by the name of Jedd Gyorko. Gyorko fit the need of a super-utility infielder that the team needed and Jay was a cheap outfielder for the constantly-rebuilding Padres. Gyorko went on to outperform Jay in just about every way to this day and make that trade look like a steal.
Jay has always gotten a warm welcome and likely still will, but as a current member of the White Sox, he won't be back in St. Louis this year.