St. Louis Cardinals: Postseason free agents the Cards should target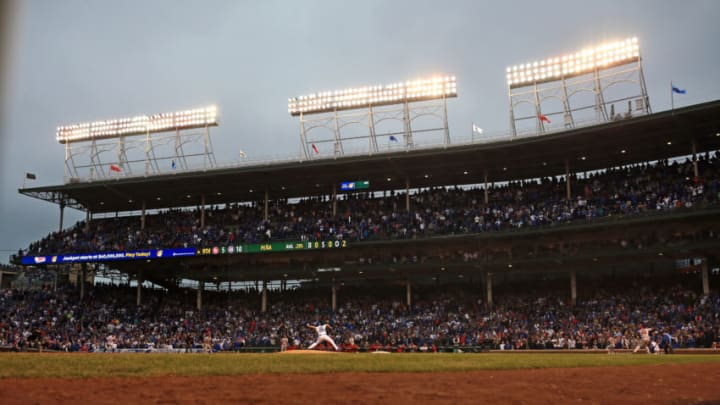 CHICAGO, IL - SEPTEMBER 30: General view of Wrigley Field between the Chicago Cubs and St. Louis Cardinals on September 30, 2018 in Chicago, Illinois. (Photo by Andrew Weber/Getty Images) /
ATLANTA, GA – OCTOBER 08: Pitcher Chad Sobotka #61 of the Atlanta Braves leaves the game during the seventh inning of Game Four of the National League Division Series against the Los Angeles Dodgers at Turner Field on October 8, 2018 in Atlanta, Georgia. (Photo by Scott Cunningham/Getty Images) /
The St. Louis Cardinals need to make changes this offseason and one place they should look would be to free-agents-to-be who are playing now in the postseason.
The Braves were all but eliminated in three games but put up a fight in that third game extending the season for them to one more game. Game four against the Dodgers proved to be just as insurmountable as games one and two. Looking ahead, the Braves have a massive 10 players projected to hit free agency.
Of these ten, only a few should be of interest to the Cardinals. These are Brad Brach (RP), Kurt Suzuki (C), Lucas Duda (1B), and Rene Rivera (C). While the Braves will have starting pitchers Brandon McCarthy and Anibal Sanchez on the market, both are in the middle-30s and are just as high a risk as Adam Wainwright.
Brach is 33 years old, earned $5.165M in 2018, and posted a 3.59 ERA in 62.7 innings with the Braves in 2018. I think a 2-year deal could be had for Brach at $14M. Brach could rebound nicely under the guidance of Maddux.
Duda is also 33, earned $3.8M in 2018, and hit for a .241 average with an OPS of .731. Duda would be blocked to the Cardinals if they decide to keep Matt Adams. If not, then Duda might be a serviceable backup to Carpenter at first. I think the Cards could land him for a 1-year or 2-year deal worth $4.5M AAV.
Suzuki is doing all he can to make a name for himself in his old age. He is 35 and posted a batting average of .271 with an OPS of .776 for the Braves in '18. The challenge to landing him would be to convince him to take the backup duties to Yadier Molina. At his age, this might not be that negative of a thing.
Suzuki earned $3.85M in 2018. A backup role could cost the Cardinals a 1-year deal of $4.5M but that shouldn't prohibit them from asking.
Rivera is already in a backup role so moving him to the St. Louis Cardinals as backup to Molina would be an easier plea. Additionally, Rivera is cheaper than Suzuki at $2.8M in 2018. He batted .233 with an OPS of .694 showing that he would be a good backup. At 35 years of age, Rivera could be had for $3.5M.
All of the factors above make me think that the Atlanta Braves might not be the best trade partner for the St. Louis Cardinals following this season. That said, I think the Cards would be wise to hunt a backup replacement for Yadi from Atlanta.