St. Louis Cardinals: Postseason free agents the Cards should target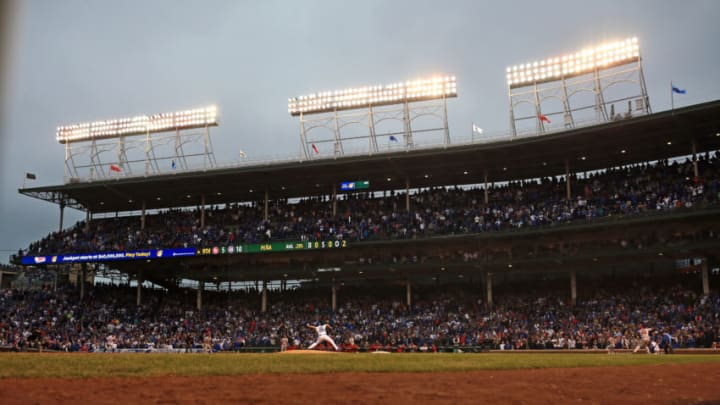 CHICAGO, IL - SEPTEMBER 30: General view of Wrigley Field between the Chicago Cubs and St. Louis Cardinals on September 30, 2018 in Chicago, Illinois. (Photo by Andrew Weber/Getty Images) /
DENVER, CO – OCTOBER 07: Adam Ottavino #0 of the Colorado Rockies pitches in the seventh inning of Game Three of the National League Division Series against the Milwaukee Brewers at Coors Field on October 7, 2018 in Denver, Colorado. (Photo by Justin Edmonds/Getty Images) /
The St. Louis Cardinals need to make changes this offseason and one place they should look would be to free-agents-to-be who are playing now in the postseason.
There are plenty of great names on the Colorado Rockies who were unceremoniously removed from postseason play by the Milwaukee Brewers… I will get to the Brewers later. First up, let's look deeply at the Rockies.
Let's get this one out of the way right out of the gate: Matt Holliday is not going to return to the St. Louis Cardinals. Sorry, guys, but it just isn't going to happen. Holliday will retire as a Rocky and likely following the 2018 season.
Another free-agent-to-be D.J. LeMahieu can be crossed off the Cardinals' wish list as it is likely that the Rockies will lock him up thanks to his prowess and low cost. Our very own Austin talked briefly of the lock-up of LeMahieu. Check his piece out below.
Carlos Gonzales is a likely free agent but will cost a large amount of money and with Dexter Fowler and others blocking the outfield, I doubt that the Cardinals will take interest in this right fielder again (if they ever really had interest before).
Chris Nelson is a to-be free agent third baseman and depending on what the Rockies plan to do with Nolan Arenado, this name might come off the board as insurance for the mile-high team.
This leaves pitchers. In this mix is Adam Ottavino and Santiago Casilla. Both are relievers. Both are right handed. It is very unlikely that the Cardinals would or should have interest in both but I wouldn't begrudge them if they kicked the tires on at least one.
Casilla appeared in 31.3 innings for the Rockies in 2018 and recorded a 3.16 ERA. He received $6M in 2018 (paid primarily by the Oakland Athletics).
Ottavino, a former farm hand with the St. Louis Cardinals, appeared in 77.7 innings for Colorado and recorded a 2.43 ERA. He received $7M in 2018.
If I were the St. Louis Cardinals, I would offer Ottavino a $17M, 2-year contract and see if he bites. Otherwise I would ignore the other names.