St. Louis Cardinals: Prospect check in on Casey Meisner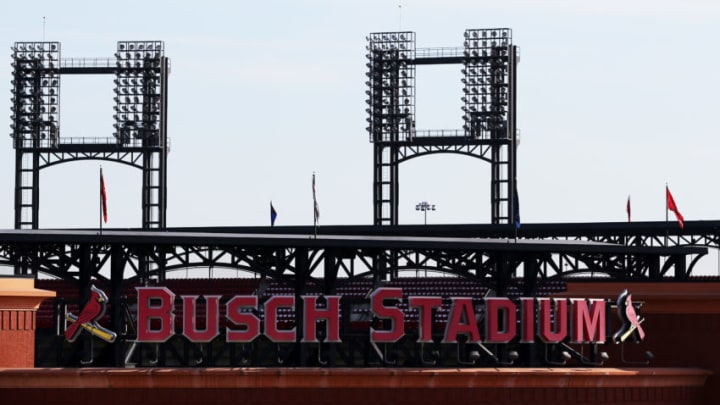 ST LOUIS, MO - OCTOBER 28: A general view Busch Stadium prior to Game Five of the 2013 World Series between the Boston Red Sox and St Louis Cardinals on October 28, 2013 in St Louis, Missouri. (Photo by Ronald Martinez/Getty Images) /
At the outset of the 2018 season, the St. Louis Cardinals traded Josh Lucas for Casey Meisner.
Now, Casey Meisner sits as the number 24 prospect in the St. Louis Cardinals organization according to MLB Pipeline. There is a lot to like about him, and it looks like a great trade on the part of the Redbirds.
Meisner was a third round pick of the New York Mets back in 2014. The Mets dealt him to the Athletics, and the A's sent him to St. Louis. The righty is 23 years old, and is playing for Palm Beach. His age and level might deter excitement on him, but it shouldn't.
Why To Be Excited
When looking at Meisner, the first thing to jump off the page is his size. He throws from a 6'7″ frame. That kind of downward plane that he uses can be very deceptive to the hitter. Something else to like is his four pitch repertoire.
He sits in the low to mid 90's, but his curve grades out higher than fastball. The breaking ball grade is 55, and his fastball and changeup grade out at 50. Meisner's fourth pitch is a slider that is below average at 45.
Professional Performance
The St. Louis Cardinals prospect is throwing well in Advanced A ball. Meisner has made ten starts for Palm Beach with a record of 4-1 with a 3.27 ERA. Last year, in the A's system, he reached Double A for 12 games with an ERA just over four.
Beyond that, Meisner has posted great numbers in almost every season since he was drafted. That includes a sub three ERA across three different levels in 2015. His career K/BB ratio is good as well, sitting at 462/197.
How Does He Project
MLB Pipeline says that his ceiling is as a back end starter. His size, pitch repertoire, and ability to go deep in games will allow him to eat innings at the back end. Despite the fact that he is in Palm Beach, his ETA is still 2019.
Personally, I think he will make a great reliever. Since his secondary pitch grades higher than his fastball, those two pitches will make him a weapon. That, and he will be able to sit in the upper echelon of his velocity.
Either way, Meisner is a very exciting prospect. It is hard not to find good things to say about a guy standing 6'7″ tall. But the size means nothing without performance, and he is performing. I would categorize this young arm as a name to watch.