St. Louis Cardinals: Father/Son duos in Redbirds history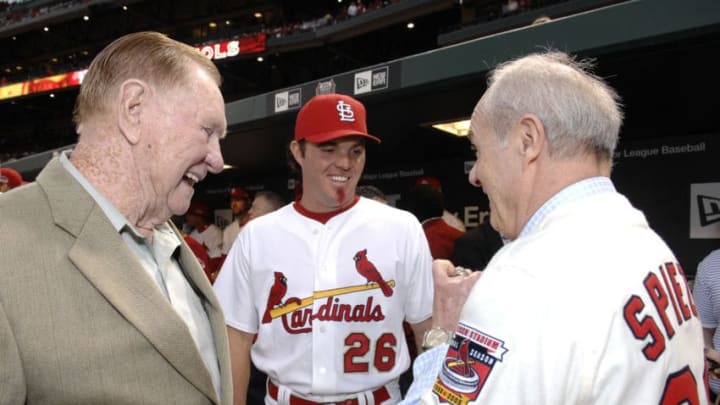 ST. LOUIS - APRIL 3: St. Louis Cardinals utility player Scott Spiezio #26 and his father Ed talk with Hall of Famer Red Shoendienst before the game against the New York Mets at Busch Stadium on April 3, 2007 in St. Louis, Missouri. (Photo by Scott Rovak/Getty Images) /
The St. Louis Cardinals have had several different fathers and sons both left the mark with the team.
On a day that celebrates fathers, it seems only right that we pay tribute to the generations of families that have brought their talents to the St. Louis Cardinals. Some of them graced a Redbird uniform, and others made their mark in a different way. But the fact remains that baseball is a family game.
St. Louis has such a rich baseball history that finding father and son duos was not a difficult task. So, before jumping in  with the first duo, I just want to wish a Happy Father's Day to all of the dads out there.
The first pair is an off the field father and son who made a huge impact on the Cardinals over the years, and they will be featured as honorary mentions. They did not play on the field, but they did play a big role in the team's history.
The Buck's
Jack and Joe Buck have both called Cardinals games in the past. Of course, father Jack is more associated with St. Louis. After all, Jack has made some of the most recognizable calls in the history of the game.
While Joe has covered the Redbirds as a part of Fox Sports Midwest, it is his father that is the most well known Buck voice for Cardinal nation. For a Father's Day post, it is only right to appreciate the the first generation as much as possible.
The Javier's
Julian Javier spent 12 seasons in St. Louis, and secured two All-Star appearances. He won two World Series with the team before being traded to the Reds in 1972 for Tony Cloninger. The "Phantom of Hoolie," as he was known, named his son after a teammate and friend, Stan Musial.
So, his son Stan Javier also played professionally. It is hard not to with a namesake like that. He spent 18 years in the majors. None of them were with the St. Louis. However, they were the team to sign him at 17 years old.
The Duncan's
Dave, and sons Chris and Shelley all played professional baseball. While Dave Duncan's playing career did not include the Redbirds, his coaching career did. The eldest Duncan was the pitching coach for the St. Louis Cardinals from 1996-2011.
Only one of his sons played where he coached, and that was Chris Duncan. Shelley Duncan never made it to St. Louis. Chris spent all five of his major league seasons as a Cardinal. From 2005-2009, he hit .256 and accumulated 55 homers.
The Sisler's
If there were ever a baseball family, it would be the Sislers. Father, George Sisler played for the St. Louis Browns from 1915-1927. Over that span he hit well over .300, including two seasons of hitting over .400. His highest season mark was .420.
All of George's sons were born in St. Louis, and two of them played in the MLB. Dave Sisler pitched for several teams over a seven year career, but not the Cardinals. Dick Sisler, however, spent his first and last seasons as a Redbird. There were a lot of teams in between, but he totaled four years. He was twice traded by the team for Ralph LaPointe and Tom Alston, respectively.
The Pena's
The father is Tony Pena, who was a five time All-Star over an 18 year career. One of those appearances came as a member of St. Louis Cardinals. Pena spent three years with the team from 1986-1989, hitting .248. He has had two sons make it to the MLB, only one has spent time with the Cardinals.
Tony's son Francisco Pena is five years into his professional career. This season is the first year in St. Louis, and he is hitting .210 in 81 at bats. His job is backing up Yadier Molina, and he is doing well at that task.
The Olivares's
Ed Olivares spent two seasons as a professional baseball player, both of them were as a Cardinal. Between 1960 and 1961 he collected five hits in 35 at bats. After 1961, he was taken by the Houston Colt .45's in the expansion draft.
Ed's son, Omar Olivares, had a 12 year career. Five of those seasons were spent in St. Louis. He threw 606 innings as a Cardinal with a 4.02 ERA. He was released in 1995, but went on to have along career with several different teams.
The Spezio's
Back in the late 1960's, the St. Louis Cardinals had a player named Ed Spezio. During his five years sporting red, he hit a few ticks above .200. Though, he was a part of the World Series team in 1967. His Cardinal career came to an end when he was shipped of to San Diego in a package that netted Dave Giusti.
Scott Spezio is one of the more recognizable players in recent memory. His dyed red beard was a signature piece of his look. He also won a World Series with the team in 2006, and .271 across his two year career with the Redbirds.
Next: Five players that could make the Cardinals contenders
Happy Father's Day
These are some of the father/son combinations in baseball. It is part of the beauty of the game, fathers and sons can have catch. So, once more, Happy Father's Day to all the dad's out there.