St. Louis Cardinals: Is the pitching parade indicating a trade?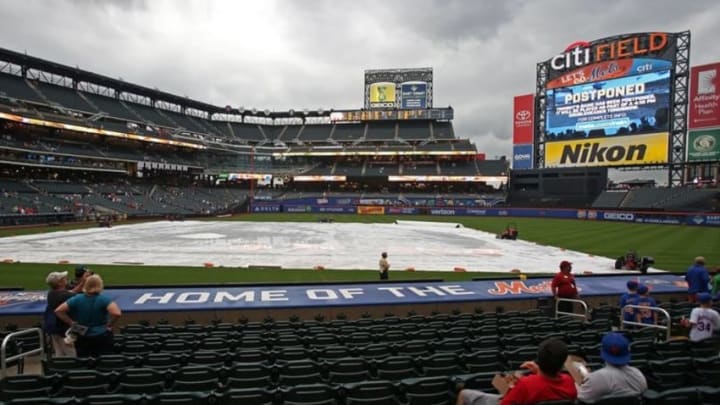 Jul 25, 2016; New York City, NY, USA; Fans make their way to the exits after the game between the St. Louis Cardinals and the New York Mets was postponed due to rain at Citi Field. Mandatory Credit: Adam Hunger-USA TODAY Sports /
Despite the onslaught brought by the Los Angeles Dodgers, the fact that the St. Louis Cardinals brought up a relatively unknowing pitcher on Sunday and yet another pitcher on Monday might indicate an approaching trade.
The St. Louis Cardinals demoralized young pitcher, Mike Mayers, in his start on national television on Sunday night against the Dodgers.  While this certainly was not the idea, Mayers found himself headed back to Memphis on Monday working hard to keep his head high.
In his departure, the St. Louis Cardinals called up Jerome Williams.  Willams, not a youngster, has amassed a ten year major league career culminating in a 4.57 career ERA.  Williams was added to the Cardinals roster to be a solution for long relief in the wake of Sunday night's bullpen game (and in addition to the double-header and rain and…).
What if these moves have something more to do with an impending trade rather than with St. Louis Cardinals pitching needs?  What if the idea of Mayers over a Luke Weaver or Alexander Reyes session had more to do with adding value for a pitcher to be used in trade?  What if the same is true for today's addition of Williams?
Let's play with this idea a little more… As I wrote in my Mayers preview, calling Mayers at this point begins his clock.  Add to this the fact that Mayers, for his brief time in AAA, currently holds a 2.62 ERA.  Looking just at these stats, Mayers might be of incredible interest for a team looking for a prospect-involved-trade.
Did the move work?  Absolutely not but it does help us understand why Mayers was the candidate of choice over others who the St. Louis Cardinals might wish to (1) protect, and (2) delay the start of the major league clock.
Let's look now at Williams.  Yes, the St. Louis Cardinals are significantly in need of bullpen arms thanks to the long games, but let's play the same idea with Williams as we did with Mayers: namely, has Williams held a minor league performance level strong enough to interest other teams?
Here are Williams' stats in the minors this season:
Year
Age
Lg
W
L
ERA
G
GS
CG
SHO
IP
H
R
ER
HR
BB
SO
WHIP
2016
34
AAA
5
3
4.89
9
9
2
1
57.0
64
31
31
11
15
34
1.386
10 Yrs
52
66
4.57
225
149
3
2
1012.1
1058
556
514
126
346
647
1.387
162 Game Avg.
9
12
4.57
41
27
1
0
184
192
101
93
23
63
118
1.387
Do these indicate anything of interest to a team in a trade?  While it seems to me that there isn't much here, some exposure in the majors as long relief might change that.  It should be noted too that the above stats show the abbreviated performance time Williams has experienced since joining the St. Louis Cardinals organization recently.
Does it make sense to even consider Williams for a long-man pen role?  Here is a comparison of Williams as a starter vs. reliever:
| I | Split | W | L | W-L% | ERA | G | GF | SV | IP | H | R | ER | HR | BB | SO | WHIP |
| --- | --- | --- | --- | --- | --- | --- | --- | --- | --- | --- | --- | --- | --- | --- | --- | --- |
| | as Starter | 50 | 60 | .455 | 4.56 | 149 | 0 | 0 | 859.2 | 900 | 473 | 436 | 105 | 301 | 543 | 1.397 |
| | as Reliever | 2 | 6 | .250 | 4.60 | 76 | 34 | 2 | 152.2 | 158 | 83 | 78 | 21 | 45 | 104 | 1.330 |
Do these numbers strengthen the case?  While the numbers aren't too much of a difference, perhaps a few appearances as a reliever in 2016 (a year after an injury) will help his value.  Perhaps teams have already asked the St. Louis Cardinals about him…
To add to my thinking of the organization desiring to add value is the simple question of why Mayer and why Williams when others in the organization seem better equipped for impact.  Read this to include Reyes, Weaver, Ryan Sherriff, or even Juan Gonzalez.  Thinking along this line makes me feel like a trade train is rumbling down the tracks.
The real question now is whether the St. Louis Cardinals organization is looking to these two names to fill slots of those who might be departing or as those to be departing?  Another real question is whether this makes sense at all and whether a trade is even being considered?
As I've written this post, tonight's game in New York has just been announced as rained-out.  Great.  Another doubleheader is in store tomorrow.  Guess we will have to wait and see the Williams performance tomorrow or another day.