St. Louis Cardinals: Giving the 2019 roster their final letter grades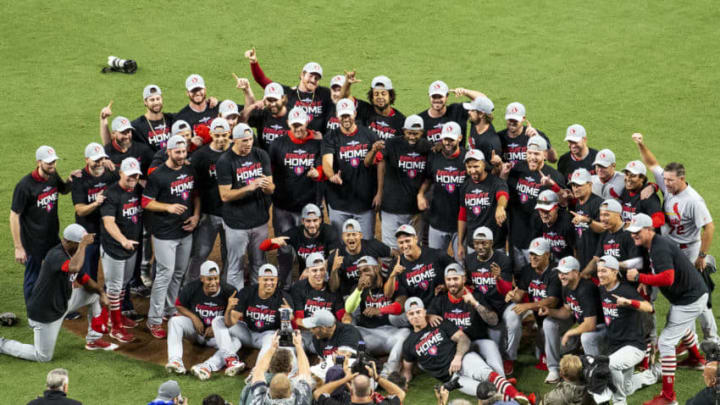 ATLANTA, GA - OCTOBER 9: The St. Louis Cardinals pose for a team photo after winning Game Five of the National League Division Series over the Atlanta Braves 13-1 at SunTrust Park on October 9, 2019 in Atlanta, Georgia. (Photo by Carmen Mandato/Getty Images) /
WASHINGTON, DC – OCTOBER 14: Paul Goldschmidt #46 of the St. Louis Cardinals reacts after striking out in the first inning of game three of the National League Championship Series against the Washington Nationals at Nationals Park on October 14, 2019 in Washington, DC. (Photo by Patrick Smith/Getty Images) /
Paul Goldschmidt: B
In his first year with the Cardinals, Paul Goldschmidt didn't do horribly but didn't do as great as was advertised. Hopefully, the down first half was just nerves from the first season in a new city with a big contract. He still finished 28% lower than his career marks offensively despite hitting 34 homers and driving in 97. He is a definite bounce-back candidate in 2020.
2019 was Kolten Wong's best year in the MLB. Adding to his stellar defense fans have come to expect, his .361 OBP and 24 stolen bases at the top of the lineup provided a great spark. Wong will probably win his first Gold Glove this year and it was great to see the confidence from him both at the plate and in the field that we didn't see very consistently when former management was in the dugout.
Paul DeJong had a very odd year. With a stellar 14 DRS at shortstop to go along with 30 homers, surface-level says he was great. Look a little deeper and you see that his .233 average, .318 OBP, and 97 OPS+ suggest he may not have had a great offensive season. Mostly ruined by an awful final two months of the season where he didn't get any days off, DeJong needs to keep working on his approach as far as taking walks.
Tommy Edman was one of the greatest breakout players from 2019. Accumulating a 3.8 bWAR in a half season's worth of at-bats, Edman likely played his way into a starting role in 2020. The 24-year-old switch hitter can play anywhere in the infield including right field and was above average defensively no matter where he played. Whether or not he can repeat in 2020 is the biggest question.
Matt Carpenter decided to use his April and September of 2018 as a plan for 2019. With a .226 batting average and just a .726 OPS, it was an awful year for the veteran. The only positive from the year was his .866 OPS in September which suggests he was breaking out of his slump. As the Cardinals did with Dexter Fowler, they will probably give Carp their confidence in 2020 and hopefully the three-time All-Star rebounds.
Yadier Molina: A-
The A- for Yadier Molina is solely based off of his clutch factor in 2019. His .270 batting average was good but overall, an OPS+ of 85 due to a low OBP and low slugging says it was a below-average year. The 37-year-old catcher proved he can still come up big though as there were many moments where he starred. From the sweep of the Cubs at Wrigley to NLDS Game 4, Molina proved he can still do it when it counts. If he has his clutch factor, Molina will be fine dwindling out his years in Cardinal red.
Matt Wieters was the best backup the Cardinals have had at the catching position in a long time and it showed through in 2019. Anytime Molina missed time or needed a day off, it seemed Wieters stepped in without missing a beat. While his numbers don't look great, for a backup catcher, 11 homers and a .700+ OPS played just fine. He probably priced himself out of the backup salary the team is going to want to pay him but I'd love to see him back next year.
Munoz had a relatively quiet 2019 where he didn't play much and didn't produce any when he did. After proving to have some skill with the bat last year, Munoz's offensive numbers fell in about every category except stolen bases. He played well enough to keep the backup infielder role but really didn't wow anyone.